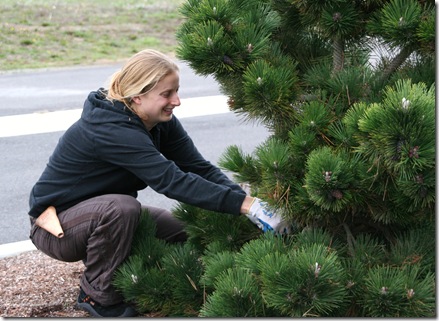 I've found some wonderful tutorials on pruning in the last few weeks, with easy-to-understand photos and step by step advice. Pruning can be intimidating for beginners, but these guides break it down and have an encouraging tone – they don't make things more complicated than they have to be.
Here are the articles I've liked the best:
Pruning, Pared Way Down: Margaret Roach was the garden editor of Martha Stewart Living for some time, and she presents some clear tips for minimalist pruners. She makes the point that even if we don't do a perfect job of pruning, starting with just these few things would make such a difference!
Pruning (Young) Apple Trees: Bliss, a blog written by a Dutch garden- and interior-designer, brings us this simple photo essay on how she pruned her young apple trees. Gratuitous kitty photos at the end!
Pruning Wisteria: Fine Gardening Magazine has been wowing me lately with their online pruning articles. This is the only garden magazine I get, and this Wisteria article shows why I love it – clear, step by step instructions and crisp photos make it easy to figure out what to do.
Pruning Lilacs: Another great article from Margaret Roach's A Way to Garden, this time about how to prune your lilacs. She makes the excellent point when discussing rejuvenating your shrubs that sometimes we don't actually want to create a whole new structure to our plant, just tweak its shape a little. So think about what you want your plant to look like before you dive in.
Pruning Flowering Quince: Iona's a retired librarian (my kind of gal!) with a passion for gardening. She's sharing her tips and techniques as she learns, and this is the first in a weekly pruning series.
Here she talks about how to prune your flowering quince the right way, but if you are worrying you won't get it right – you can relax. I've seen quinces that had been attacked with the electric hedging shears yearly for their entire lives, blooming away merrily and healthy as anything.
I hope these guides take away some of the mystery of pruning, and help you feel confident to get outside and give your plants some attention!
Be sure and check out Fine Gardening's other pruning resources here, and if you missed them, my articles on how to prune ornamental grasses, Astilbes, roses, and raspberries.