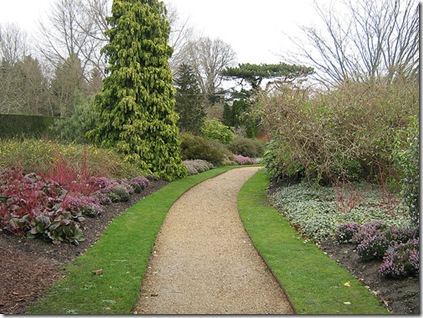 If December is all about putting things to bed – raking, weeding, mulching,  and cutting back perennials – January's for dreaming big dreams of the coming year's harvest and blooms – pruning, spraying, and planting for a productive year.
You'd think while pruning a completely bare tree you'd feel wintry and rather desolate – but if you are like me, visions of next year's homemade yellow plum liquor and fresh apple crumble keep you feeling cheerful and warm inside!
Even the non-gardeners know it's pruning time, and I'll be sure and talk more about how and what to prune soon; but what else is going on in the garden right now?
Dormant Spraying of Peaches, Apples, Pears
Now's the time for the second application of Dormant Oil and Lime-Sulfur spray on your apples and pears. This is a great organic control which goes a long way in preventing insect eggs and fungus from living over in the crevices of your bark.
Learn from my mistake and spray that Lime-Sulfur first thing in the morning before you shower – don't do it right before dinner, please. My poor partner was sniffing his meal suspiciously trying to figure out what in the world smelled so bad.
Spray peaches now with copper sulfate (Micro-cop) to prevent Peach Leaf Curl. This is another organic control that works wonders.
Rake Up Camellia Flower Petals
If you've seen those horrible clumps of brown flowers on your Camellias (especially the ruffly-flowered ones), you'll know why you want to avoid Blossom Blight. As your Camellias drop their petals, rake them up and keep things clean to avoid problems. If you have experienced Blossom Blight in the past, you may like to add a layer of mulch each year after they've finished blooming.
I see this every year with the rose-like varieties, but rarely see any disease  issue with the single-petaled, simple-flowered Camellias, so if you are choosing a new Camellia, go for one with just a single layer of petals. The only way I'd say choosing a ruffly variety's an OK idea on the damp coast is if it is in a covered area, like under a large overhang, where the flowers will miss some of the moisture from the sky.
Bareroot Fruit Trees, Roses, Berries, and More
This is the time of year to pick up your bareroot plants! Raspberries, thornless blackberries, fruit trees, and bareroot roses; plus the less obvious ornamentals – last year my local nursery had a great selection of Lilacs, ornamental Flowering Cherries and Golden Chain Trees, and some neat Hydrangea varieties.
My favorite bareroots to buy right now?

Honeycrisp Apples had a huge following when I worked at my local  nursery, and after trying them I can see why. They are crisp and sweet with a full flavor – none of the mealiness you sometimes get with Golden Delicious, and not too tart or too bland. Just great eating or juicing apples.
Espaliered Multi-Variety Apples are excellent for small-space gardens. Espaliered means that the apple has been trained so that it sits flat against a wall, so even if you have a lot of perennial flowers in your bed, you can still make good use of your sunny fence for food production. You can get dwarf trees that have three varieties grafted onto the one plant, so they pollinate each other and give you a few kinds of apple.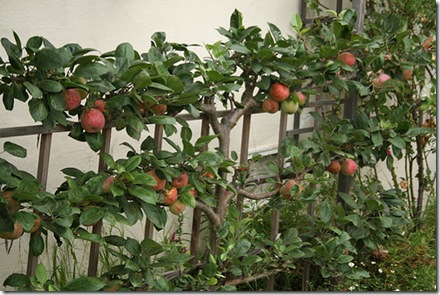 Frost Peaches are fantastic in the coastal regions of the Pacific Northwest. Most peaches need more chilling time than we can give them on the coast, but I've had great success with Frost Peaches. On a three year old plant about five minutes from the ocean, my client got a large bucket full of fruit!
Pruning Fruit Trees, Roses, Berries, Maiden Grass, Red-Twig Dogwoods, and Native Sword Ferns
I'll talk more specifically about pruning soon, but suffice it to say this is major pruning season. Raspberries and Blackberries, climbing and other roses, fruit trees and other dormant trees, and many ornamental grasses but in particular the Maiden Grasses/ Miscanthus are getting cut back now.
I'm also cutting off all the foliage from our native Sword Ferns, Polystichum munitum. While some people only cut out the dead fronds, I've found that by August last year's fronds are looking very shabby, and it's hard to get in and cut them out individually without harming the fresh fronds.
They come back beautiful and fresh and over ten years I haven't noticed any diminished vigor from our yearly prune. Just cut each frond back to right above that hard knob at the base where the new fronds emerge.
Red- and Yellow-Twig Dogwoods are also getting cut back now. Many people cut the entire shrub to a few inches tall in early spring and let the new stems come up afresh, since the young stems are the brightest.
I don't see any need to be so drastic – I've had great success just pruning out the oldest one-third of the branches at the base. This keeps it constantly refreshed and ready to grow some bright new twigs for the year, yet you still get to enjoy the rest of the season with your pretty stems, plus your shrub stays a consistent size.
You can tell which stems are the oldest since they'll be thicker and with a duller color than your other stems.
Cleaning and Sharpening Your Tools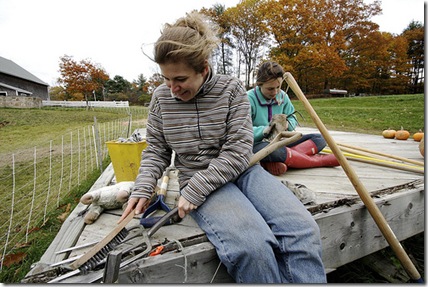 This is the perfect time of year to scrub off, sharpen, and oil your tools. Getting them clean and sharp will make for much better pruning cuts and a lot less effort on your part!
Fine Gardening has some in-depth tips on how to do it, but don't be intimidated if you don't want to spend all day on it.
I just scrub the caked sap off my pruning tools with an oiled scrubby dish sponge – you can use WD-40 or even motor oil – then wipe off any excess oil and sap, sharpen them (just follow the existing blade angle with your sharpener – I use a Speedy Sharp), and then apply oil or WD-40 to all the moving parts. Takes a few minutes per tool and makes pruning a lot more fun.
I hope this gives you some ideas of what to do outdoors this month, and here's wishing you clear weather for all your pruning, planting, and spraying! If it rains, I guess we can pass the time with our seed catalogues and imagine warmer days…