Christmas is my very favorite time of year! I begin singing Christmas carols in July, and by September it's all I can do not to annoy people with the minutiae of my Christmas plans.
Creative and homemade is where it's at – I love Christmas cookies, making wreaths, planting paperwhites, and everything else that happens this time of year (minus the short days!). The best part is sharing in the inspiration and enthusiasm from other people, so with that in mind, check out these –
Super-excellent Christmas ideas from around the web: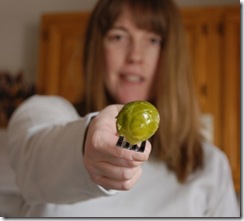 No, you don't have to eat them.
Growing up, we never put coal in people's stockings – we put brussels sprouts. (Don't ask me where that came from!) So when I found this wreath idea at a Swedish blog, I was totally charmed. A wreath! Made of brussels sprouts! I'm totally making that for my dad next year.
A gardener's gift-wrap idea from Sunset: Use a Tillandsia or air plant as a bow on gifts.
Got a mystery tree this year? Use this fun guide to figure out what kind of Christmas tree you have.
Fern over at Life on the Balcony told us about this awesome trick: How to keep your forced bulbs from flopping. That's my kind of tip – a little for the paperwhite, a little for me…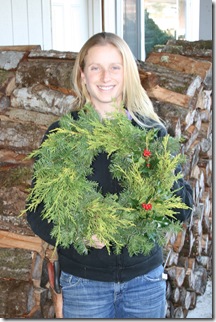 My friend Don over at the local Rhododendron Nursery invited me  to show everyone how I make my Christmas wreaths each year, for his December newsletter! He also wrote an excellent article on how to take care of your live Christmas Tree. Check out both articles here. There are plenty of pictures and a detailed how-to for both!
I saved the best for last: Even though this is something we'd enjoy now and not actually create now, it's just too perfect not to share. FaireGarden created these adorable lambs out of Lamb's Ears, or Stachys byzantina, a hot glue gun, and some peppercorns.
The best thing about them, besides the fact that oh-my-gosh they are WAY cute and everyone you made them for would love you forever (ahem), is that Lamb's Ear's actually smell pleasantly like a barnyard! I'm definitely making these next summer.
How about you?
What holiday inspirations have you found online, and what crafty traditions do you have? Feel free to share your own posts with us!