Florists love Alstroemeria for their gorgeous, long-lasting cut flowers, and I do too – the orange 'Third Harmonic' above, the traditional salmon-pink 'Regina' found in your florist's shop, the always-lovely 'Casa Blanca' with its white flowers striped with pink and green – there are colors and tones to suit any garden.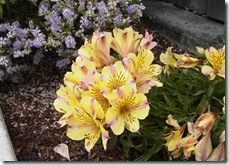 If the usual 4-5' size is too much for you, try the dwarf  'Princess' series in the ground or a container. They come in all kinds of colors – deep purples, magenta, and a stripey yellow called 'Princess Angela' (at right) which I love with Geranium 'Rozanne'.
The one caveat with Alstros is don't just buy any old one – make sure the label says they are sterile, or consult your Sunset Book
. The non-sterile versions can be horribly invasive weeds, while the sterile ones clump politely and perfectly where you set them. This is totally not the place to buy a cute seedling with a label merely saying "Pink".
Anyway, even if you're a raving fan of Alstroemeria like I am, you may be pruning them wrong! When you go to pick flowers for a vase, remove spent foliage, or deadhead them (do remove any stalk that's done flowering), don't just cut them off at the base like you would many other perennials – grasp the stalk firmly and pull, bringing up a small white sprout of root with you.
This effectively "divides" the Alstroemeria's roots as you go, so you aren't faced with an intimidating digging task every few years like with so many perennials. Check out the video for how to do it (click through to YouTube and select "watch in high quality" to see greater detail):
I learned this trick from a wholesale grower of Alstros years ago and have noticed much better flowering since then! Plus, it's super-fun to do.
Try it out with your Alstros and let me know if you notice any difference in how full and flowery they are next season!