If you've been finding the time to work in your garden in the last couple months, you probably have most of your fall trimming done – deadheading Lavender, Scotch and Irish Heather/ Heath, and Hydrangeas; and cutting back your Sedum 'Autumn Joy', Astilbes, Hostas, and other hardy perennials which lose their leaves.
You may have also finished raking up your leaf litter (it's important to rake up large leaves like Maple and Sycamore, since the big leaves trap water and can cause perennials to rot. Just compost them and use the compost in spring as a great amendment or topdressing!), and if you are a super-duper A+ gardener, you've even applied some mulch or compost as a topdressing to help protect your soil and plants!
No worries if you haven't done all of that yet – it's less work than it sounds like and I find the fall maintenance tasks are my favorite to do. There's something so satisfying about cleaning and clearing at this time of year.
But if you are finished and you are ready to think about planting some new things and getting a jump-start on your winter care, then read on…
Spring Bulbs are Going Cheap Now!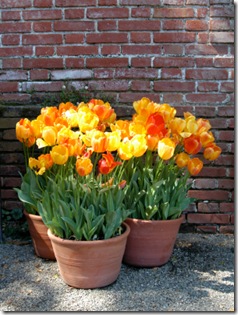 Even if you've already planted your spring bulbs, you might go back to the  nursery now and see what's left! My local nurseries usually start the 50% off discounts about now, and I find that there's usually quite a bit of good stuff left.
If you have a lot of people to buy Christmas gifts for, why not snatch up some awesome bulbs and plant them in inexpensive terra-cotta pots with a ribbon around them? I like to choose one type of bulb per pot.
For a pot 8" or smaller, I'd cluster either Iris reticulata (mini iris), Crocus, Grape Hyacinth, regular Hyacinth, or mini Daffodils, planning so that the height of the flower is in balance with the pot's size. You could also do species/ crocus Tulips, which stay fairly low. Bigger pots could use normal Daffs, Tulips, or Freesias.
Just ignore the instructions for how far apart to plant, and snuggle the bulbs in twice as close as the package says so you get a full look.
Dormant Spraying of Deciduous Fruit Trees
December through February is the time to get your dormant oil and lime-sulfur spray on your trees. If you don't want to spray all through the year, this preventive spray makes a world of difference! The combination takes care of overwintering insects and fungus, and it is considered organic, though the oil is petroleum-based.
You'll need to spray twice; once after the leaves fall, and once again in mid-January before the buds swell. Try to choose a dry, warm-ish day to spray, to give the oil a better chance of spreading out into the crevices of the bark.
When you spray, be sure and wear protective gear (I like to wear protective glasses, a hooded sweatshirt, and a scarf around my mouth and nose), and plan your spraying so that you move from one side of the plant to the other so you don't end up getting dripped on while finishing up.
The idea is to coat every surface of the tree, top and bottom, to smother disease and insect eggs, so be as thorough as possible, and if you have bare ground or mulch underneath, rake up the remaining leaf litter before spraying and then spray the ground around the tree. Try not to hit any delicate annuals or evergreen plants with the spray – but I've found lawn and most sturdy shrubs aren't harmed by inadvertent drips.
Bare-root Artichokes, Asparagus, Raspberries, and Blackberries
This is really the only time of year to get Raspberries, Blackberries, and Asparagus!
Most of the blackberries sold bare-root are non-spreading varieties, and there are even some thornless ones if, like me, you're debating the excitement of blackberries over the grump of having scratched arms and punctures on your fingers. Plant Blackberries next to a trellis of some kind so they can climb in an orderly way.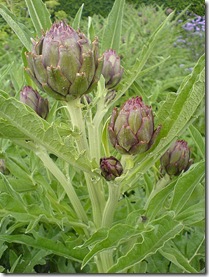 Raspberries and Asparagus both want to travel, so I prefer to keep them in raised planters. I have one client who has had great luck with a patch of Asparagus in an oak barrel, getting a fantastic crop yearly for the cost of a little water and organic fertilizer.
You can get Artichokes any time of year that you like, but they are cheap now and when buying them bare-root, you get to select the ones with the sturdiest roots!
Bare-root Roses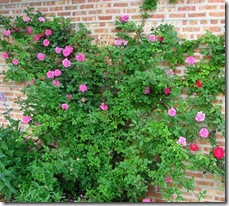 The Bareroot Roses are arriving in the nurseries now, so go check out the selection! I've found a marked difference in how well bareroot roses do over roses purchased in late spring or summer – the time they have over the winter to grow roots makes them simply explode into growth in spring! By the end of the first year, they almost look full-grown – just a bit skinny.
I hope these new plants coming into the nursery get you excited about going outside, even though it's getting chillier. Even with the cold temps, working outside is a great way to pump up your energy and refresh your soul. Besides, if you're anything like me, you'll need to work off all the Christmas cookies you'll be eating this month!